The pineapple fruit is native to the Caribbean and South American continent, yet it is farmed all around the world, particularly in India, and South-East Asia. Here, we will explain how to grow a pineapple – the Queen of fruits!
Growing a perfect pineapple – what does the weather need to be like?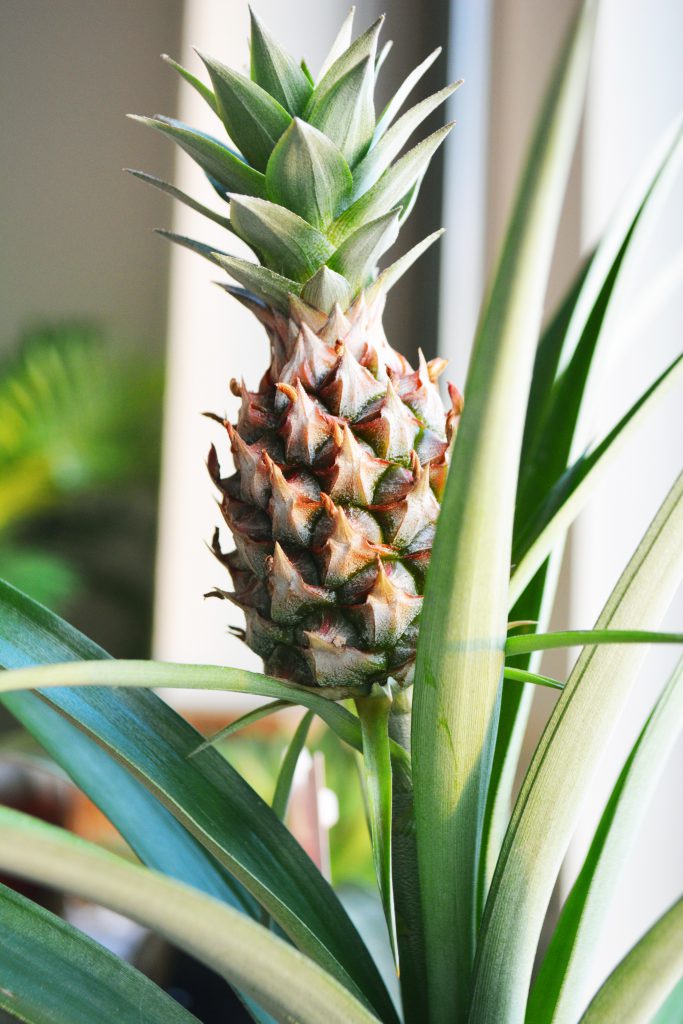 Learning how to grow a pineapple firstly requires the proper warm temperatures.
In their natural environments, pineapples grow optimally at temperatures ranging from 22°c to 32°c. The roots of a pineapple develop most effectively at temperatures around 29°c, while foliage (the crown) develops more strongly at around 32°c.
For the most well-rounded growing of a pineapple, there needs to be a drop in temperature for the fruit at night – ideally a reduction in temperature of 4°c – 5°c compared to daylight hours.
If you're looking for an area to start your own pineapple farm, aim for a place with heavy intermittent rainfall replicating Caribbean climates. The optimal rainfall for pineapple growing is in the range of 1500mm per year, however pineapple is successfully grown in rainfall ranges of 500mm to 6000mm per year.
With these factors in mind, pineapples are usually grown in coastal areas at altitudes up to 1000m, though some are grown at higher altitudes reaching toward 2000m so long as frost is minimal to non-existent.
There are around 50 countries in the world with climates suitable for growing pineapples. Check them out here!
When explorers returned from their American voyages carrying pineapple fruits as presents for their patrons, it captured the attention of many Pomologists, who competed to build the first pineapple "hot house" and replicate the necessary tropical conditions. Henry Telende, gardener to Sir Matthew Decker of Surrey, is commonly thought to be the first botanist who created the right conditions for the fruit to grow in Europe. He mixed soil with tanner's bark (taken from oak trees), trapping enough heat to create "pineapple pits". This methodology allowed botanists to grow and preserve the most delicate of exotic fruits – including growing pineapples.
Source: Dumbarton Oaks Research Library, Hothouses and Pineapples

What soil should I pick to grow a pineapple?
Pineapples can grow well in most types of soil, however they grow best in sandy loam soil. This is normally made up of a mixture of sand, silt, and clay. On the pH scale, this type of soil leans toward the alkaline side, suiting pineapple growing best when between pH 5.0 – 6.0.
Good drainage capacity in soil is also important for growing a pineapple, so if your soil holds a lot of water, it's definitely not suitable for a pineapple!
When should I plant a pineapple?
The best time to plant and grow a pineapple depends on that place's typical temperature ranges, particularly how much rain is expected in usual monsoon or rainy seasons.
If you haven't got a big commercial farm with established irrigation, then it's best to plant and grow a pineapple at the beginning of the rainy season
If you've picked a nice, warm and precipitous spot to plant your first pineapple crop in India, then mid-Summer (around April – June) is best. That will give yield your first crops around August to September.
Pineapples are planted and begin growing in the Caribbean around early June. In the Philippines and other places in South-East Asia, the rainy season similarly begins around June or early July.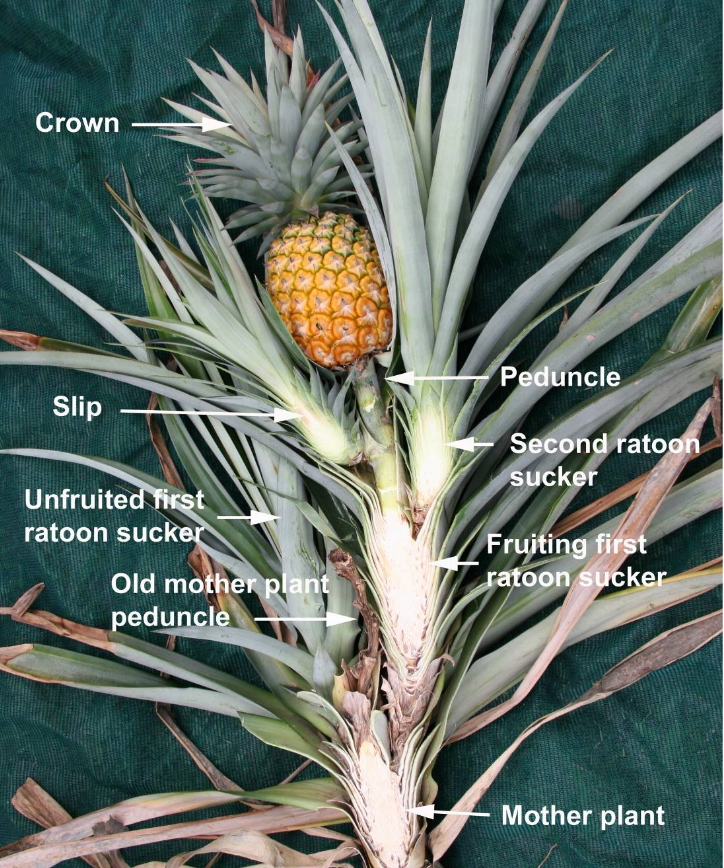 What do I actually put in the ground?
Growing a new pineapple from parts of an existing one is fairly easy. Using a part of a plant to grow a new one is called a propagation material by farmers.
Growing a pineapple is usually done from one of four propagation materials taken from the fruit's sucker, slip, or crown.
Ratoon suckers arise below ground. Suckers originate in the leaf axils, which is the part where the leaf connects to the main pineapple crown. Slips grow from the fruit itself or along the stalk below the fruit where it connects to the mother plant. Crowns are the leafy tops of the fruit.
Every pineapple fruit you can buy in the supermarket comes with a crown which can be used to start the growth of a new plant. The plant will develop slips and suckers for further planting after that!
If you're lacking in arable land, you can plant the pineapple in a one gallon pot. From there, the plant should be in full sun and you'll see most development occur during the warmer months of the year.
Okay, okay, when can I eat it?
Aha, the answer we have all been waiting for!
Fresh pineapple tastes best when it is allowed time to develop a yellowish orange rind color on the plant. You will find that a home-grown pineapple tastes way different to a supermarket-bought one, since those have to be harvested before being totally ripe, in order to reach you in an edible state.
The time from planting to eating depends on a few things, like temperature, and which propagation material has been used. Planting in early spring on the brink of a rainy season will give you a fresh, edible pineapple in less time than those planted in early fall.
Pineapple grown from a slip takes longer than one grown from a suckers, which require less time than crowns. The larger the source material used, the quicker it will grow.
Putting some timescales on it, an early spring planting from a sucker will take about 16 months. A slip about 24 months, and a crown may take 28 months to flower.
After flowering, the developing fruit will require another 6 months to mature. You should plan to wait around 21 to 34 months from planting to enjoying your own first home-grown pineapple
Growing a pineapple in the right environment takes a little effort, a little luck, and a lot of patience. Every time I slice into one from my local grocers, I take a moment to appreciate all of the hard work and effort that has gone into getting this beautiful fruit onto my plate.
If you ever grow your own pineapple, post in the comments (pictures of pineapple are always welcome!)