Pineapple juice cocktails make an excellent companion to lots of different spirits. In this post, we will explain how to make some famous and delicious pineapple juice cocktails.
Some people get a little daunted at the prospect of mixing their own cocktails, but it's super easy when you know how to make a simple pineapple juice cocktail to impress your friends with.
If you need some advice on how to cut a pineapple properly in these recipies, or some advice on calculating calories effectively, you can
[Read More PineapplesInfo – How to cut a pineapple]
[Read More PineapplesInfo – How to count the calories in pineapple]
Pineapple Juice Cocktails with Rum
The Piña Colada
A sweet rum cocktail combined with fresh pressed and strained pineapple.
A pineapple and rum cocktail, star of that "if you like piña coladas" song, and a veteran of the white sands of Miami. The taste of a pineapple Piña Colada is copied in everything from Piña Colada cakes to Piña Colada smoothies, but nothing quite beats making yourself a pineapple alcohol Piña Colada.
Method
Combine the pineapple chunks and lots of ice into a blender. Pour over the rum, pineapple juice and coconut cream, add the dash of syrup, and whizz it up until you have a smooth pineapple rum cocktail. Cut a pineapple wedge. Serve in a chilled glass with a straw, top with the fresh pineapple wedge and as many cocktail umbrellas and plastic monkeys as you can muster.
Ingredients
A handful of fresh pineapple chunks
60 ml white Rum
60 ml freshly squeezed pineapple juice
60 ml coconut cream
A dash of homemade simple syrup
Pineapple slice, or two, for garnish
Equipment needed
Blender, glass (classic choice is a hurricane. A coupe or tumbler also works.)

Tip –Swap the homemade syrup for a fiery ginger syrup. This provides a warm and spicy edge.
Piña Ombré
A close relative of the Piña Colada, the Piña Ombré is a coconut rum cocktail with pineapple juice.
Method
Add half the coconut rum (45 ml), the coconut sorbet and the coconut/almond milk to a blender with a handful of ice cubes. Blend and set aside. Add the remaining coconut rum to the blender with the frozen pineapple and blend. Pour half the mix out and add one dash of grenadine to the remaining mixture and blend briefly. Add a dash of grenadine to the glass(es), followed by the pink pineapple juice cocktail mixture, then the yellow, until the glass is half full. Top with the white cocktail mixture.
Ingredients (serves 1-2)
90 ml coconut rum
One scoop coconut sorbet
250 ml coconut or almond milk
250 ml frozen pineapple chunks
Two dashes grenadine

Equipment needed
Blender, glass (a tumbler.)
Tip – Avoid using canned milk.

Orange and Pineapple Juice Cocktails
Backyard Sangria
A perfect pineapple cocktail recipe for a backyard summer party or barbecue.
Method
Slice the orange and halve the strawberries, then place in a glass jug with the pineapple. Pour over the rum, lime juice, wine and pineapple juice, then leave to chill for 2-3 hours. Add fresh mint leaves, stir gently and serve.

Equipment
Glass jug, bar spoon
Ingredients (serves 4 – 6)
Half an orange
4 – 5 fresh strawberries
A handful of pineapple chunks
250 ml white rum
1 juice of lime
One bottle dry white wine
250 ml freshly squeezed pineapple juice
A handful of fresh mint sprig
Tip – Always use freshly squeezed pineapple juice where possible. Don't skimp on the lime juice.
The Painkiller
A classic tiki cocktail and all-round popular pineapple alcohol drink. Usually consumed with friends from a large cocktail juice bowl.
Method
Shake the liquids over ice until frosty. Pour pineapple cocktail mix into an ice-filled highball glass and grate a little nutmeg on top.


Glass type
Highball
Ingredients
60 ml aged rum or spiced rum
120 ml freshly squeezed pineapple juice
30 ml freshly squeezed orange juice
30 ml coconut cream
A dash of homemade simple syrup
Fresh nutmeg to garnish
Tip – Use spiced rum for a little extra complexity.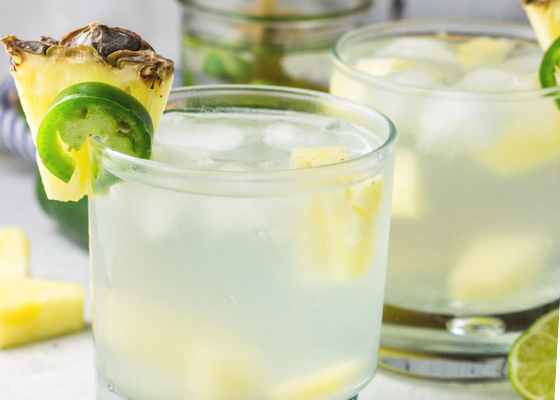 Cocktails with vodka and pineapple juice
Bay Breeze
One of many cocktails with pineapple juice and vodka, Bay Breeze gives any rum and pineapple juice cocktails a run for their money.
Method
Pour the vodka into an ice ​ice-filled highball glass. Top with all the cranberry and pineapple juice. Garnish with a lime wedge.

Glass type
Highball
Ingredients
60 ml vodka
90 ml cranberry juice
90 ml freshly squeezed pineapple juice
Lime wedge to garnish
Tip – Try experimenting with different flavoured vodkas. Top with soda or sparkling wine and serve in a jug to pineapple juice cocktail loving friends.
If this quick list of easy pineapple cocktails is not quite enough for your tastes, we recommend checking out TheCocktailDB.com's database of pineapple juice cocktail recipies, too.