The ananas, or pineapple plant, is grown around the world – mainly in warm environments with regular rainfall. In this article, we explain where you can find and visit a Pineapple Farm, to see the queen of fruits in its natural habitat!
Pineapple Farms in Europe
Though Europe does not have the best climate for growing pineapple, there is a single place where pineapples are grown, shown, and open to the public.
Arruda Pineapple Plantation – São Miguel Island, Portugal
The biggest island in the Azores archipelago, this Portuguese territory in the Atlantic ocean is uniquely suited to growing pineapples in Europe.
The island is mainly a tourist attraction for the twin crater lakes of Sete Cidades – one of which is blue, and the other green! Aside from that, it is the only pineapple plantation in Europe.
Nestled alongside volcanic springs and winding coastal roads, the Arruda Pineapple Planatation is a short drive from the main island town of Ponta Delgada.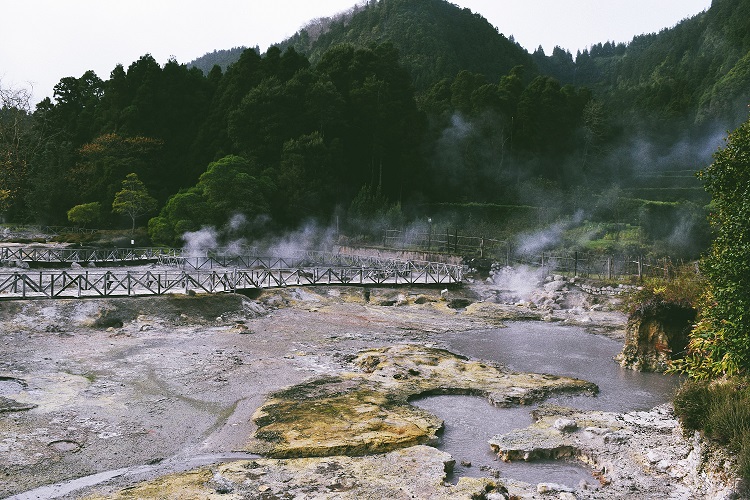 The plantation tour is self-guided, showing specially designed pineapple glasshouses with the fruit in various stages of production. This includes the nursery where young plans are developed, and the greenhouse which contain more than 1,000 pineapple plants being matured.
Near the farm you can find the Centro de Interpretação da Cultura do Ananás (Pineapple Culture Center) which has permanent exhibits explaining the story of pineapple and its impact on local culture and traditions.
South-East Asia
Pineapple Hills – Pranburi, Thailand
Pranburi is a beautiful coastal town on the east side of the Gulf of Thailand. Most people will pass near on the way to the ferries for the famous Thai islands of Koh Samui, Koh Pha-ngan and Koh Tao.
As a tourist spot itself, Pranburi has very nice, quiet beaches and plenty of palm trees. You can spend your time here swimming or lounging on the beach, or else take a trip to the Pineapple Hills Resort plantation.
The resort offers accommodation and is well-reviewed in itself. The real treat, however, are the rolling mountainside hills where thousands of pineapple plants are grown.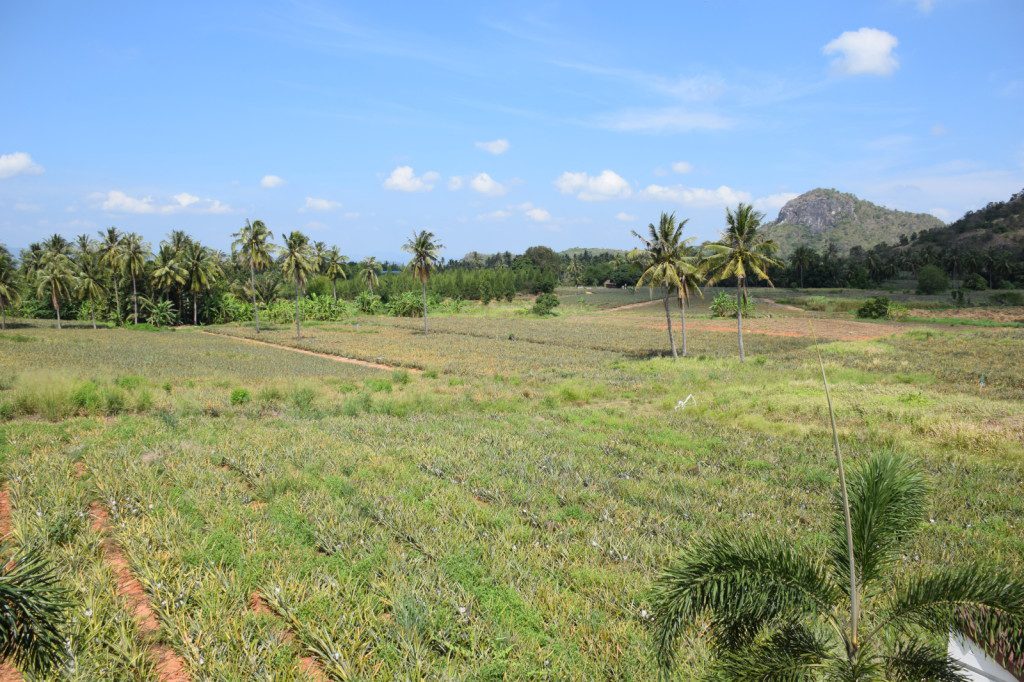 La Plantation Eco Pineapple Farm – Kampot, Cambodia
Click to view on TripAdvisor or visit KampotPepper.com
Kampot is mostly famous for its Kampot Pepper, found in lots of signature Cambodian cuisine dishes like Lok Lak, which adds an amazing and unique flavour.
Located on the south coast of Cambodia, and very suited to cultivating pineapple, you can find La Plantation Pepper Farm. It's a short trip away from the popular beach destination of Sihanoukville and well worth a visit.
The farm is a sustainable and socially-conscious family project, mixing techniques from both traditional farming and modern methods. The farm offers a free guided presentation and tasting tour in English, French, Chinese and Khmer.
Alongside the world-famous (and delicious!) pepper, you can see rows upon rows of pinapples being grown outdoors. Lots of other famous fruits, like the love-it-or-hate-it durian, passionfruits, and pomegranates are also grown here in abundance.
Visiting and supporting the farm helps people in this rural area and contributes funds to the local primary school. There are two restaurants on site, and the chance to take part in Khmer cooking classes. You can also experience a tour in the rural countryside up to Secret Lake in a cart pulled by water buffaloes.
Kampot town itself is a beautiful place to visit, especially if you happen to arrive at the same time as one of the local food exhibitions or festivals. Lots of ex-pats from other parts of the world settle here, so there's a vibrant community.
While you're in the town of Kampot, PineapplesInfo highly recommends a visit to the Rikitikitavi restaurant, and a sample of the locally-sourced and fresh pineapple used in their desserts and cocktails.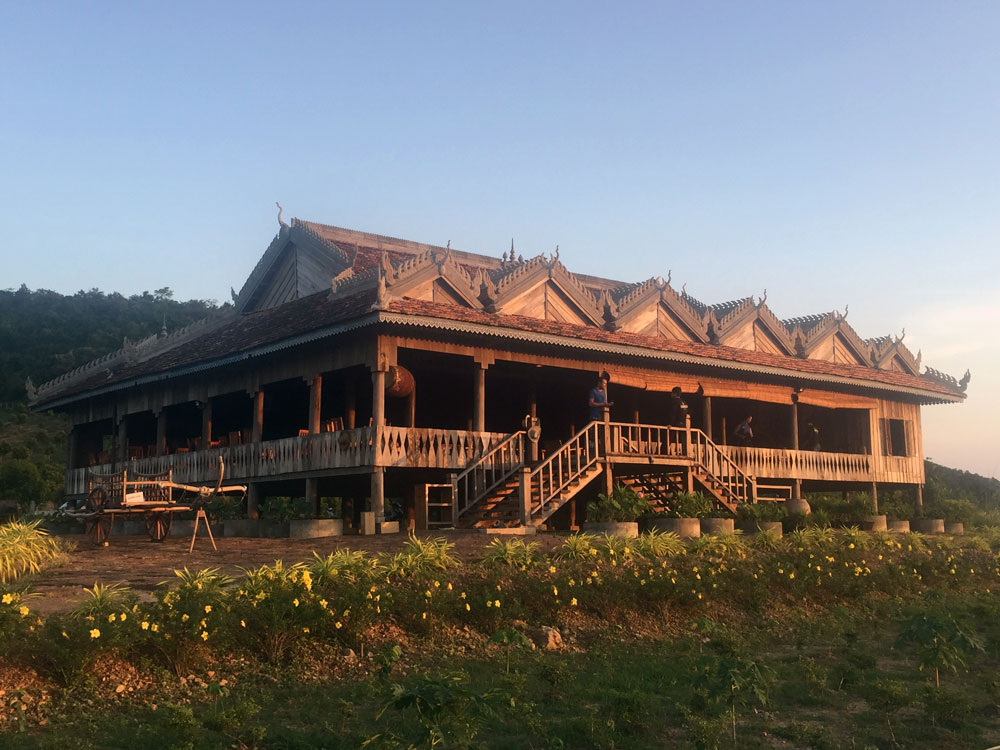 Tac Cau – Chau Thanh, Vietnam
This area, full of pineapple farms, in Vietnam is a little more hidden away than most others. You won't find a big internet presence, or any websites offering tours. You can, however, find lots of bloggers, travellers and Vietnamese people calling it the best place for pineapples in Vietnam.
It's perfect for the pineapple explorer who likes to journey the extra mile for the sweet reward.
Tac Cau is actually an island in the Chau Thanh district of Kien Giang, pretty much as far south in Vietnam as you can travel. This area has been growing pineapples for 70 years, so it's fair to say they know what they are doing!
Blessed with a naturally perfect soil and climate ideal for growing pineapple, the arable land where the fruit is grown is woven through by rivers and irrigation channels. That means the farmers, locals, and tourists, can travel through this pineapple farm by boat.
The experience of floating through a pineapple farm is not one you're likely to forget!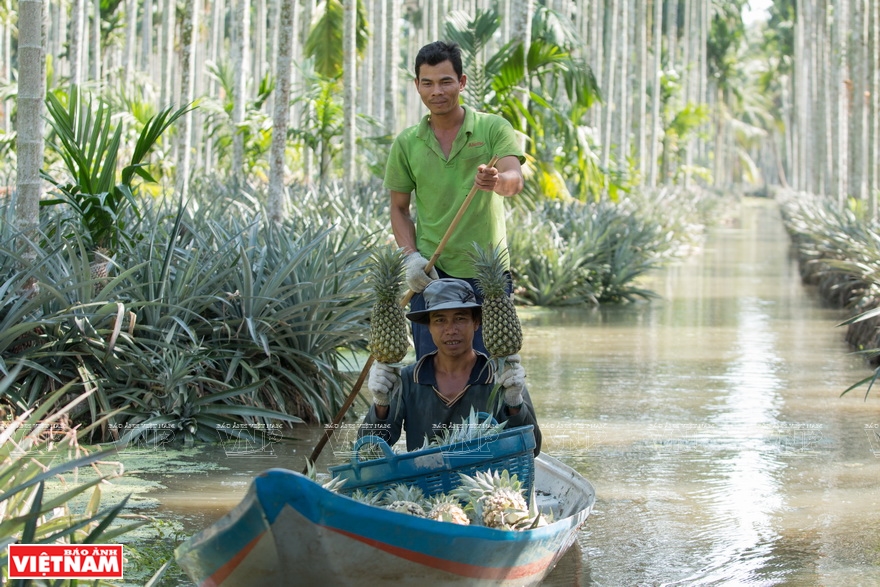 Pineapple farming is a reliable and profitable source of income for local farmers. Thanks to more modern farming techniques, the fruit is now grown year-round so you can be sure to see some on your visit.
Official tours are a little hard to come by, so the best bet is to do it the old-fashioned way by talking to a local. Visiting Hoa Le village in the Go Quao district will be your best place to visit. It's hard to miss the rows of pineapple orchards.
Lots of these pineapples are shipped off to Ho Chi Minh city where they sell very well in markets. Be sure to buy and eat some pineapple while you're here – they taste unlike any other pineapple you have ever tried.
Pineapple farm tours in the Caribbean and Americas
Finca Paraíso Orgánico Pineapple Farm – Costa Rica
Click to view on TripAdvisor or visit OrganicParadiseTour.com
The Organic Paradise Tour is a 30 hectare organic pineapple plantation located in La Virgen de Sarapiquí, Costa Rica. You'll travel through the pineapple fields on a special coach pulled by a tractor, which offers a really cool experience into the organic farming world.
Most ecologists believe that pineapples originated somewhere in this area before being exported and grown to the rest of the world. It's perhaps unsurprising that the rich soil grows exquisite pineapples.
The tour takes you around the rural areas where pineapples are a way of line, offering an authentic insight into how the fruit connects with the land and people. It's definitely educational, where you can learn organic pineapple farming practices and innovations.
You can, of course, buy pineapple directly from the farm and get a quick course in how to cut a pineapple before eating in case you've forgotten PineapplesInfo's guide!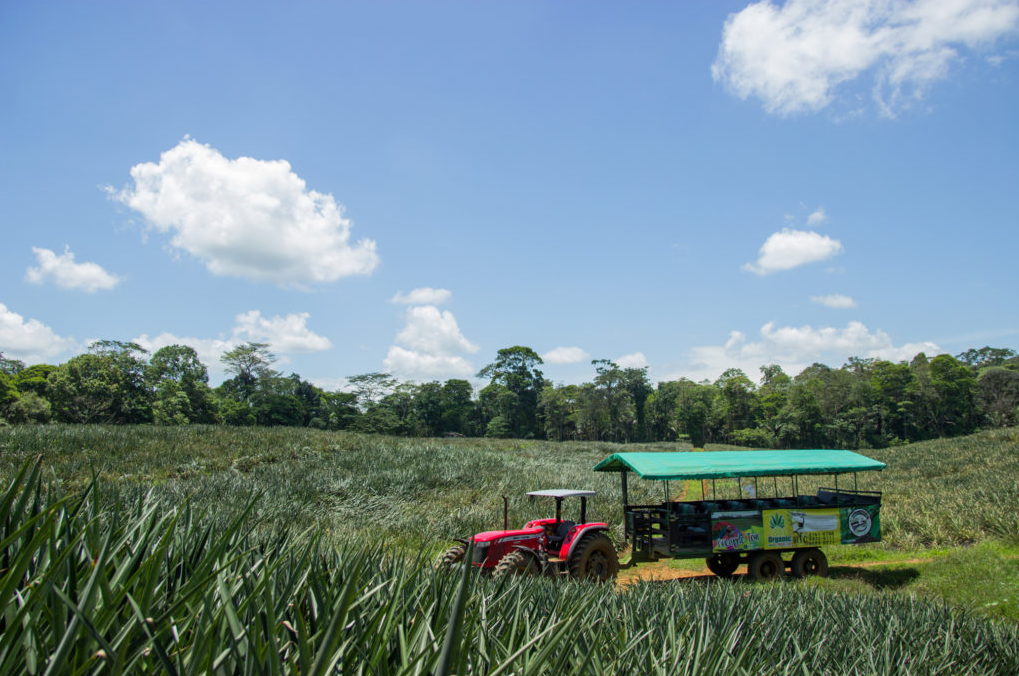 Dole Pineapple Plantation – Oahu, Hawaii
Click to view on TripAdvisor or visit DolePlantation.com
This pineapple farm tour is probably the most 'corporate' option on the list. Dole grew out of a fruit stand, founded in 1950 and are now responsible for 30% of all sales of pineapples globally. If you enjoy pineapple you've probably seen their logo.
The tours are the main attraction here. You can take a two-mile train through a live and working pineapple plantation spanning 60 acres. The 20-minute train tour is fully narrated as you go along in English, Korean, Japanese and Mandarin, and will give visitors an overview on the history of the pineapple, agriculture in Hawaii, and the life of James Dole.
Curated pineapple gardens also display various types of pineapples in pleasing, attractive arrangements
Aside from that, there are plenty of activities for kids or the more fun-minded of you, with the famous Pineapple-shaped maze which was featured in the 2008 Guinness Book of World Records and Pineapple variety garden, giving visitors a close-up look at a wide variety of fruits, flowers and native plants.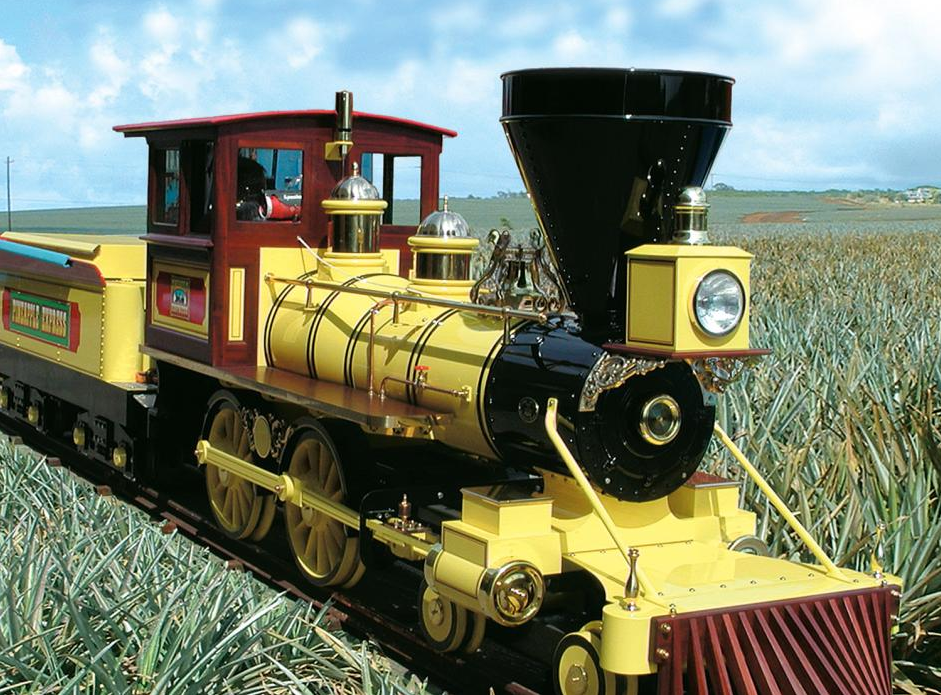 Pineapple farming is a key source of income and a sustainable method of farming globally. Taking the time to visit and travel through one certainly gives an added appreciation of the journey they take to your plate.
As well, there's nothing quite like tasting a fresh pineapple straight from the farm!
Have you visited a pineapple plantation worth mentioning? Please add it to the comments below!