The pineapple plant is a perfect indoor plant, and is an increasingly popular choice. Here, we'll explain how you can take care of, and grow one in your own home.
A study by NASA showed the potential of using indoor plants, including the pineapple plant, to reduce local pollution and also help relieve certain breathing conditions like sleep apnea through air purifying.
More commonly, pineapple plants are grown indoors as a houseplant just because they look good. They are a great conversation starters, and also last a long time, with some varieties able to grow for 10+ years!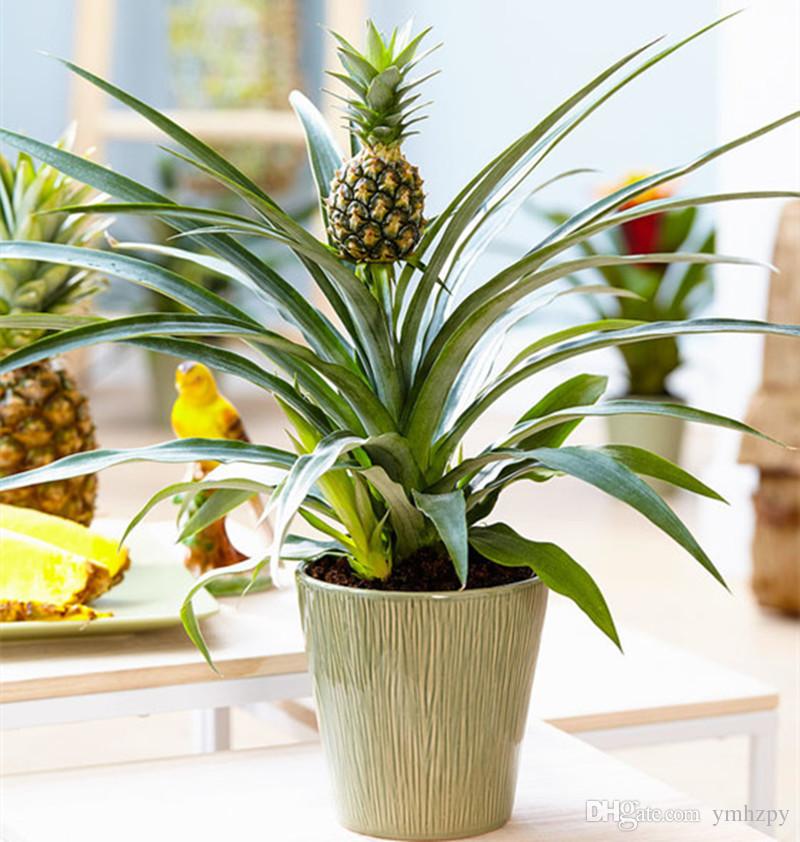 Important to note; a pineapple plant can only product one fruit, so once you've picked it, you need to re-pot a propagation material (like the crown, or base) and start again.
Pineapple plants are typically low maintainence so long as you keep them in a good temperature range of 20°c to 30°c, water regularly, and provide the right size pot to grow in.
Pineapple Varieties – which should you choose?
Some pineapple plants you can buy online are the same full-sized specimens as those grown on commercial pineapple farms. Commonly they will be a cultivar of ananas cosmosus called MD-2, which is a more tolerant and easier to grow variety of the smooth cayenne pineapple.
Most plants available online are delivered with a pineapple fruit already growing, so you won't be left with a fruitless wonder. You can expect to keep these on your window in bright sunlight for a good 3-6 months before the fruit can is picked.
When the pineapple is ready (is around the size of an orange) you can remove and enjoy. Once the fruit is removed, an offset should appear which can fruit in following years. An entirely new plant can even raised by cutting off the leafy crown and planting in compost.
If you're in the US, Amazon has a good number of pineapple plants to buy, including the (rather rare) Hawaiian 'White Jade' variety, available from some retailers. last checked June 2023
If you're in the US, Amazon has a good number of pineapple plants to buy, including the (rather rare) Hawaiian 'White Jade' variety, available from some retailers. last checked June 2023
If you're in the UK, you can order an edible ananas cosmosus plant reliably from YouGarden
For a more decorative longer lasting, non-edible variety of pineapple to adorn your decor, you can grab one of the 'dwarf' varieties of pineapple listed in this knowledge guide.
Pineapple Plant Care – tips for keeping your plant healthy
It's very important that your pineapple plants see maximum sunlight. For most people living in the Northern Hemisphere, you'll get most sun throughout the day if your plant is positioned at a south, or south-west, facing window. In the Southern Hemisphere, a north, or north-east facing window will give your pineapple plant maximum sun benefits.
A cool tip to finding out your ideal sun orientation is to use Google Earth.

If you search your own address, and then click the Sun icon, it will allow you to see the sun light based on season and time of day.
How often should a pineapple plant be watered?
Pineapple plants require a lot of water. Do not allow the soil dry out, and make sure to water your plant regularly. We recommend watering the pineapple plant compost (or soil) that it's planted in. Staying moist is key! Some horticulturalists also recommend pouring a small amount of water in the cup of the pineapple plant leaf.
This should be done at least once a week, filtering all the way to the bottom. Ideally, your plant should be in porous soil which will drain away any extra water. Moist, not puddled, is what you are aiming for.
Using Fertilizer with your Pineapple Plant indoors
Once a month, you can add some extra fertilizer to your a pineapple plant to encourage growth. We recommend a balanced fertilizer and, depending on the site of your plant and pot, use approximately one half a tablespoon of a slow-release formula sprinkled on top the soil. It should be worked around one half inch deep into the soil for best results.
Protecting your Indoor Pineapple from Mold
Even with the best of attention and care, some times a pineapple plant can be infected by mold, or unpleasant critters. Avoiding a ruined harvest is very important and – with a little planning and preparation – you can avoid anything terrible like your pineapple plant leaves turning yellow.
The most common problems with pineapple mold are top rot and root rot. These common fungal problems are caused by overwatering, or having your pineapple plant in a poorly draining (like clay-based) soil. Bad!
If your plant has overly drooping leaves, or dead leaves around the center of the plant, you need to act quickly.
To solve pineapple plant mold and rot, you can repot the plant in clean and dry soil that drains properly. A sandy loam soil is suitable.
Protecting your Pineapple Plant from Pests
Mealybugs love feasting on the sap of pineapple plants. If you spot any waxy and fluffy-ish material building up on the undersides of your pineapple plant leaves, it's a sign of pest infestation. You can get rid of mealybugs on your pineapple plant by using horticultural oil; spraying affected areas or dipping the whole plant if the bugs are present at the base.
Nematodes are also partial to a pineapple. Once they latch on to your plant, they are difficult to dislodge, so it's best to begin from basics with a clean pot and fresh soil. Most pineapple plants grown indoors or in a greenhouse will be protected from nematodes, yet it can still happen.
If your pineapple plant is affected by nematodes, best way forward is to continue properly watering and feeding your plant, then dispose of the fruit and replant a crown or base for a new pineapple plant.
Pineapple House Plant Health Benefits
Some species of pineapple plant are supposedly able to help snoring and purifying the air.
The jury is still out on some of these claims, yet it is true that (generally speaking), indoor plants are known to boost mental wellbeing and the overall aesthetics of a room.