Simple Pineapple Salsa Recipe
Try this delicious homemade Pineapple Salsa! Bursting with tropical flavors and vibrant colors, this easy-to-make recipe is perfect for any occasion.
When I'm looking to add a burst of vibrant flavors and elevate my dishes, the homemade Pineapple Salsa recipe is my go-to. It's perfect for those warm summer days when you want something refreshing and light to complement your grilled meals.
The sweet and tangy notes of fresh pineapple combined with the kick of jalapeño create a harmonious dance of flavors that instantly transport me to a tropical paradise. Whether I'm hosting a backyard BBQ, a pool party, or even a casual picnic, this Pineapple Salsa always steals the show, leaving my guests pleasantly surprised and craving for more.
Aside from its irresistible taste, another reason why I love preparing this Pineapple Salsa recipe is that it's easy and fast. With just 15 minutes of prep time and no cooking, it's a stress-free recipe. The minimal cooking time allows me to focus on other aspects of meal preparation or spend more quality time with my friends and family.
For a weekend get-together, a celebration, or a simple dinner, this homemade Pineapple Salsa never disappoints. It brings flair to any occasion, and the combination of colors and flavors is a personal favorite of mine with any Mexican food.
Pineapple salsa is popular in Mexico and is often associated with the Yucatan region. Tangy pineapple with spicy jalapeños and other fresh ingredients creates a unique taste that perfectly complements various dishes. This vibrant salsa is not only a favorite in Mexican cuisine but has also gained popularity in many other parts of the world, thanks to its refreshing and versatile nature.
Simple Pineapple Salsa Recipe
The sweet and tangy notes of fresh pineapple combined with the kick of jalapeño create a harmonious dance of flavors in this Pineapple Salsa.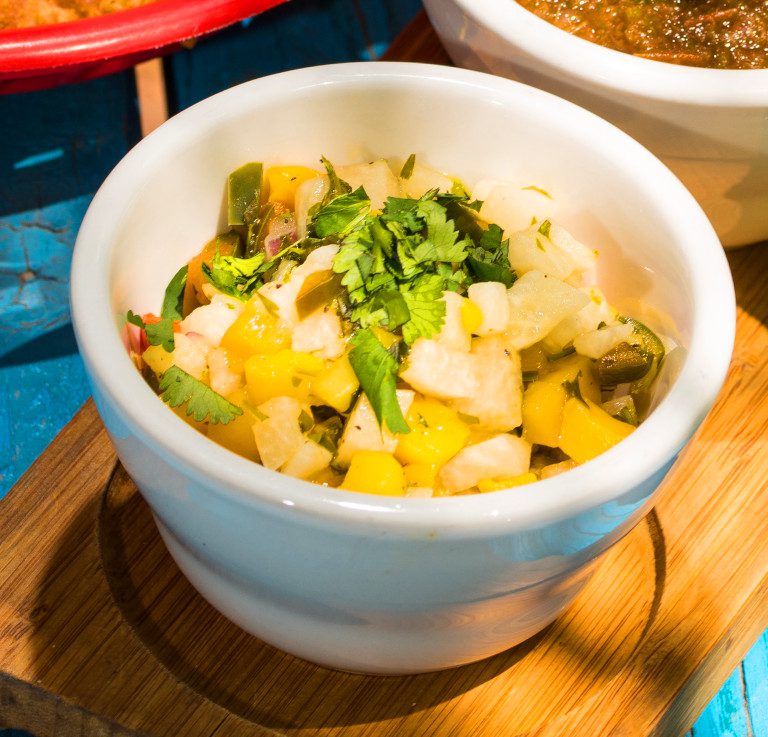 How to Make Pineapple Salsa
Prepare the ingredients

Prepare the ingredients by finely dicing the fresh pineapple, red bell pepper, red onion, and jalapeño. Chop the cilantro and set aside.

In a mixing bowl, combine the diced pineapple, red bell pepper, red onion, and jalapeño.

Add lime juice

Squeeze the juice of one lime over the mixture, add the honey, salt, and black pepper.

Gently toss all the ingredients together until well combined.

Cover and refrigerate

Let the Pineapple Salsa sit for about 30 minutes in the refrigerator. This will allow the flavors to meld together, enhancing the taste.

Remove from fridge

After resting, give the salsa a final stir and taste. Adjust the seasoning if needed, adding more salt or lime juice to your preference.

Serve

Serve the homemade Pineapple Salsa in a decorative bowl and garnish with chopped cilantro on top.

Enjoy

Enjoy your tropical and tangy Pineapple Salsa with tortilla chips, grilled chicken, fish tacos, or as a zesty topping for your favorite dishes!
pineapple salsa, pineapple salsa recipe
FAQs on Pineapple Salsa Homemade
Expand All:
How long does pineapple salsa last in fridge?
Pineapple salsa can typically last in the fridge for about 3 to 5 days. It is important to store it in an airtight container to maintain its freshness. After the 5-day mark, the quality and taste may start to decline, so it's best to consume it within the recommended timeframe for the best experience.
Where did pineapple salsa originate?
Pineapple salsa originated in Mexico and is closely associated with the Yucatan region. This vibrant and flavorful condiment combines the sweetness of fresh pineapple with the spiciness of jalapeños and other fresh ingredients. Over time, it has become a beloved and popular addition to various dishes, not only in Mexican cuisine but also in many other parts of the world.
How do you use Trader Joe's Pineapple Salsa?
Trader Joe's Pineapple Salsa can be used in various ways. Spoon it over tacos, use it as a glaze for salmon, create a tropical rice bowl with it, or add it to burgers for a Hawaiian twist. It's also great in quesadillas, as a topping for grilled shrimp skewers, or as a refreshing bruschetta. The sweet and spicy flavors of this salsa will add a delightful touch to your favorite dishes and snacks. Get creative and enjoy exploring!
Can I add pineapple to store bought salsa?
Yes, you can absolutely add pineapple to store-bought salsa to create your own pineapple-infused salsa. Simply dice fresh pineapple into small pieces and mix it into the store-bought salsa. Adjust the amount of pineapple to your taste preferences, and you'll have a homemade pineapple salsa that's perfect for dipping, topping, or spicing up your dishes. Enjoy the creative and flavorful combination!
Who invented pineapple salsa?
The invention of pineapple salsa is not attributed to a single individual. Pineapple salsa is believed to have originated in Mexico, particularly in the Yucatan region, where the combination of sweet pineapple and spicy chilies is a common culinary tradition. Over time, the popularity of this vibrant and flavorful condiment has spread, and now variations of pineapple salsa can be found in many cuisines around the world.